WELCOME
Stage Director Elizabeth Falk has directed 59 productions of classical and contemporary dramatic theatre , musical theatre and opera, at such venues as Carnegie Hall, Kennedy Center, Off-Broadway, Broadway Equity Showcase, Theatre of Creativity in St. Petersburg, Russia, and Shakespeare's Globe London where she was the first woman ever to direct.
She has also Directed at AMAS Repertory Theatre New York, Orpheus Chamber Orchestra New York, The Players New York, The Theatre of Creativity at Anichkhov Palace in St. Petersburg, Russia, Opera Yakutsk, Russia, Carpenter Center, Long Beach, California, the Orpheum Theatre of Phoenix, Opera Idaho in Boise, and at AIMS at Graz, Austria.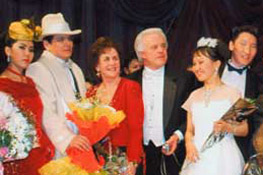 VIDEO
Elizabeth Falk directs Mozart's Don Giovanni at Opera Yakutsk, Russia, May 2004
Click Here



BREAKING NEWS
Please check back soon.
THIS SITE IS UNDER CONSTRUCTION. PLEASE CHECK BACK SOON FOR UPDATES.
The Words & the Music
Elizabeth Falk created and directs this unique series of productions that juxtapose an opera with its theatrical and literary sources. She has created nine shows that connect opera, theatre, ballet and/or the original novel or poem of the same story.
More about the Words & the Music coming soon.
Hamlet On Trial
Elizabeth Falk created the concept of putting Hamlet on Trial with real judges and lawyers. Witnesses and the defendant can only respond with lines from the play.
More about Hamlet On Trial coming soon.